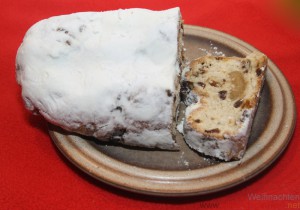 Christstollen is a traditional cake that is eaten at Christmas.
It takes the form of a rectangle or trapezium and is usually covered in icing sugar.
The main ingredients include raisins, sultanas, currants and citrus peel, but beyond that there a many variations, such as with marzipan, extra butter or nut.
Arguably the most famous version is the stollen from Dresden. This is made to a very strict recipe and the name "Dresdner Stollen" and it's variants are protected.
To hear a simple explanation and a short discussion in German, listen to the podcast:
(Press the "play" button to listen to the podcast)

Download the MP3 file | Subscribe to the podcast
Tags: Butter, Christstollen, Dresden, Marzipan, nuts, Stollen